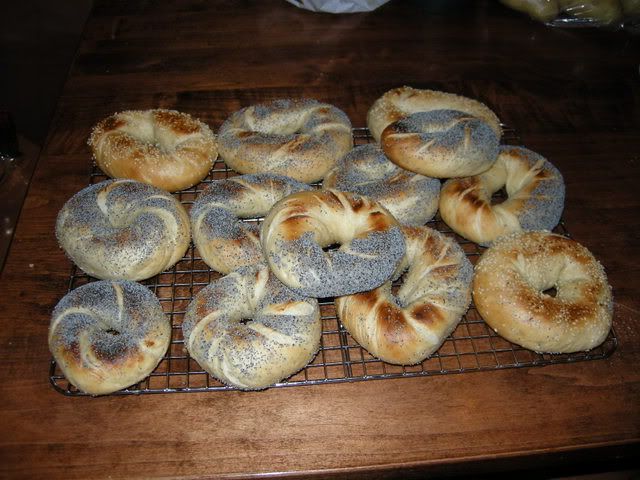 Sunday Morning is our traditional big breakfast day. My eldest niece (and goddaughter) asked if I'd teach her how to make bagels. My three neices were visiting us this weekend. The two of us got up early and I brought her through the steps of Montreal Style bagels. It was fantastic. She was a great little helper and was totally into it. We made a feast of fresh bagels, cream cheese, sliced fruits, and some cold cuts and scrambled eggs.
Montreal Style Bagel recipe and instructions:
I found this recipe on the web in a nostalgic mood for Montreal style bagels. I first was introduced to them in University, got spoiled and have never eaten another style of bagel since. There are no places I can get them locally so I went on a hunt. I tried this recipe out and first time out they were fabulous!!! Easy to make, especially if you use a breadmaker on dough cycle (mine is programmable), but easy by hand as well. I made some minor adjustments and here it is. This is imported from my recipe collection at BigOven.com
Ingredients
1 1/2 cups Water warmed
5 tablespoons
Sugar

3 tablespoons
Canola Oil

1 package Dry
yeast
8grams
1 small
Egg
beaten
1 tablespoon Malt drink powder or syrup
4 1/2 cups
Unbleached flour
You may need a little more (you can use all purpose flour as well
1 teaspoon
Kosher Salt
(or regular salt)
1/2 cup Poppy seed or
sesame seeds
6 quarts Water
1/3 cup
Honey

Instructions
1, In a large bowl stir together the warm water, sugar, canola oil, yeast (not instant), egg and malt: Keep combining until the yeast dissolves. Then, stir in salt and one cup of the flour.
2. Gently add enough flour to make a soft dough, about 3 cups
3. Knead your dough for 10-12 minutes, stirring in extra flour as you need it. When your dough is firm and smooth, cover with inverted bowl and let sit 10 minutes.
4. Divide the dough into 12 equal parts. Roll each piece into a 10 inch rope, then curve each one pressing together ends to make a bagel shape. You may need to use a few drops of water to help the ends stay together.
5. let bagels rise for 30 minutes
6. When ready, fill a large pot with the 6 quarts of water and stir in the honey. Bring that to a boil.
7. Preheat oven to 425 degrees F and line two baking sheets with parchment paper
8. When the honey water has come to a boil, drop the bagels in (four at a time), and let boil for 90 seconds, flipping once at 45 seconds. Remove and pat dry on clean tea towels
9. Sprinkle the bagels with sesame seeds or poppy seeds, generously covering both sides. Place on parchement paper.
10: Bake at 425 for 8 minutes, then flip and bake another 8 minutes. This is really going to depend on your oven temperature. The recipe originally called for 10 minutes per side but I was watching them and they were heading near burn mode by 8 minutes. After flipping they only had to bake for approx 5 minutes. Watch them first time through to ensure even baking.
These were really terrific. My family gobbled them up like lunatics. I was surprised how easy they actually were to make. When I ran the nutritional numbers they were a little off my original recipe which measured Cholesterol at only 1% (5mg), Sodium 6%, 163 mg; Potassium 122 mg, 3%, the calorie count was bang on but the other measurements differed.

Wonderful memories are made by impromptu visits, and spontaneous fun. I loved having the girls here and welcome a crazy house anytime. Here are pics of my lovely goddaughter helping with the bagel making. I hope she treasures the memory when she gets older as I do.
Making the bagel shapes
Spreading the sesame and poppy seeds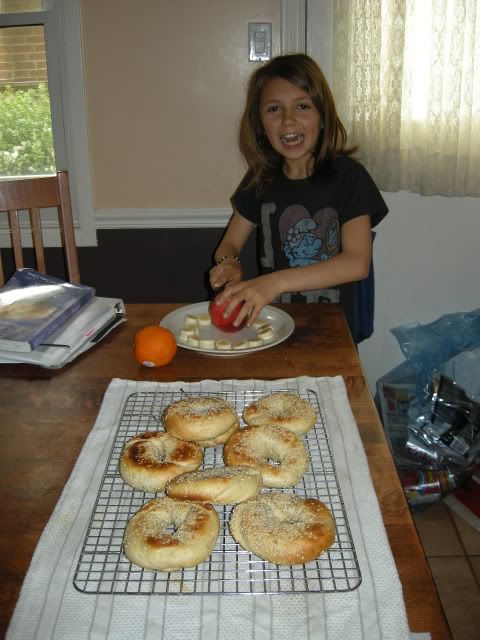 Making her fruit tray to go with the first batch of bagels out of the oven.
Recipe originally posted in my Bigoven account