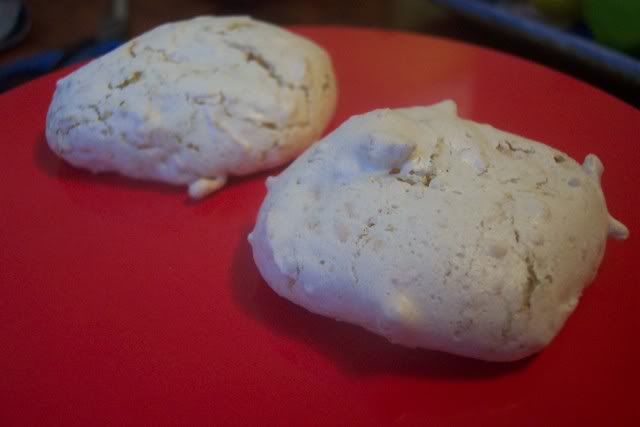 I made these as I had egg whites left over from the biscottis (vanilla ones...not the chocolate ones posted) and wanted to use them up.
You can substitute Ameretto for the rum and eliminate the lime for a different taste (really really good)
2 egg whites
1 tblsp coconut rum or 1/4 tsp coconut flavouring
1/2 tsp vanilla
1/4 tsp cream of tartar
2/3 cup sugar
1 cup flaked coconut
1 tsp finely shredded lime peel
Place egg whites in medium bowl...let stand at room temp for 30 min preheat oven to 300 degrees. Line two cookie sheets with parchment paper or foil..set aside Add coconut rum, vanilla, and cream of tartar to egg whites and beat with electric mixer on medium speed until soft peaks form. Gradually add the sugar beating on high speed until stiff peeks form.
Gently fold in coconut and lime Drop 1 inch mounds of coconut mixture from a teaspoon 1.5 inches apart onto prepared cookie sheets. Bake both sheets on seperate racks in oven about 10 minutes or mounds are set. Turn off oven and let cookies dry in oven with door closed for 30 minutes.
Makes about 36. Transfer to wire racks and let cool. Stor in airtight container at room temp for about a week or freeze up to 3 months.