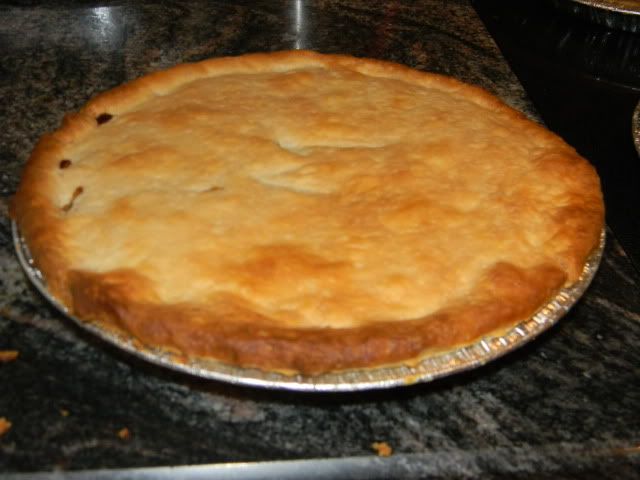 I'm not sure how my Polish Grandma ended up making the traditional French Canadian Christmas dish, and my French Canadian Grandma made the Italian pasta but that's how life played out.
This one is really quite simple though. Most of this I do to taste so it's better to start with less spice and add as desired to your own personal taste.
Ingredients:
3 lbs lean ground pork
1 tbsp butter
1 large or two medium potatos shredded
1 large onion (totally pulverized)
2 teaspoons allspice
pepper to taste
1 tsp cinnamon (optional)
6 pie shells (uncooked)
Pie dough
5 1/2 cups pasty flour
1 lbs Tenderflake Lard
1 tsp salt
(cut lard into flour/salt until well combined using a pastry cutter)
1 egg
1 tbsp vinegar
water.
Take a measuring cup, gently beat the egg, add vinegar and up to the one cup mark with very very cold water. Slowly pour into dry mix using enough only to moisten the dough until it sticks together into a ball. Divide into six equal portions and wrap for later. If needed refrigerate for 1/2 hour.
For the filling.
Melt butter in a large skillet, add onions until they've turned clearish. I literally pulverize the onions in a mini chopper. Add the ground pork until well cooked. Add the shredded potato and mix well. Add the allspice and pepper and mix well. Add enough water to totally cover the mixture and let simmer for a few hours allowing the potato to thicken the mixture. Add more allspice, pepper, and cinnamon to taste.
One Mixture is thickened divide equally into prepared Pie shells. (I will admit I used to cheat and use ready made pie shells). Cover with dough and pinch the edges. I always cut an M into my to indicate meat pie so I can freeze them and pull them out when the craving hits and I don't end up with an apple pie (which wouldn't be a horrific thing either but hard to substitute as an actual meal).
Bake at 425 degrees F until edges are golden brown and pie dough cooked. I usually undercook mine just slightly again so I can freeze and just pop into the oven to reheat without the pie dough getting burned during reheating.
That's it. So now we have our traditional "Pierogy" recipe
Grandma's recipe
posted from last Christmas and now my same Grandma's Tortierre recipe. I'll be working on a Danish Soup recipe next