This is a fantastic basic sugar cookie. They taste fabulous and are wonderful for decorating.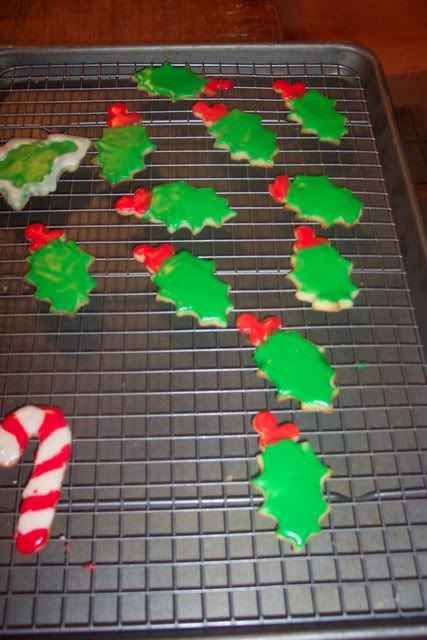 Sugar Cookie Base recipe
1 cup butter (softened)
1 cup Sugar
1 tsp baking powder
1/4 tsp salt
1 egg
1 tsp vanilla
2 1/4 cup flour
Beat butter on med-hi for 30 seconds or so. Add Sugar, baking powder, salt. Beat it up, add egg and vanilla until combined and smooth. Beat in flour until well combined.
Divide dough in half cover and refridgerate for 1-3 hours. Preheat oven to 375. Roll dough to 1/8/ or 1/4 inch (your preference) and place on ungreased cookie sheet.
I use parchment paper on my cookie sheets for these. (Almost forgot...when rolling the dough..make sure the surface is floured well, and the rolling pin. If you notice it starting to stick...sprinkle some more flour on the top of the dough and/or rolling pin.)
Bake for 8 minutes or edges are set. First batch I put in for 8, subsequent batches only 7 minutes.
ICING
3 cups icing sugar
2-3 tabls milk
1 tsp vanilla Combine in mixer.
Okay...here is where I deviated. That was wayyyy too thick, so I added milk a tablespoon at a time until it reached a consistency I liked. Added the food colouring. (gels/not the stuff from the grocer) and painted it on using cheap dollar store paint brushes. I use the gel based food colourings as it gives a much stronger colour. For the pink I only used one drop of red (and even that was a bit much...I didn't have any pink left). For the red it was only two or three drops, green two drops and such) For this one you can always use a Royal Icing as well. It's easy and dries hard 2 cups of icing sugar 3 tbsp of water That's it....good for painting or smoothing. I used this one for the gingerbread men but thinned it out a little more. (just add water a 1/2 tsp at a time until you get your consistency)