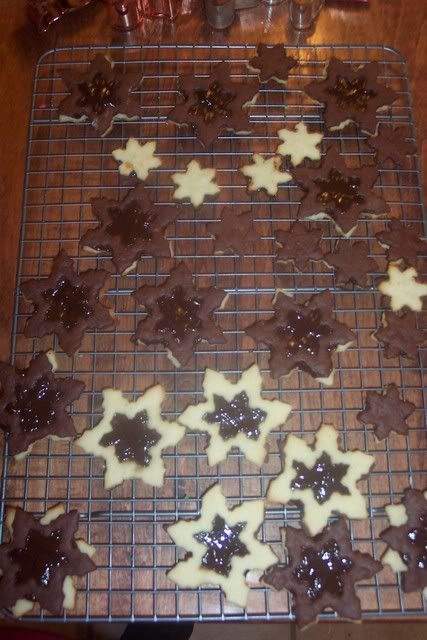 These cookies make a fabulous gift sure to wow. Sugar cookies (regular and chocolate) sandwiched with Chocolate Ganache.
Use regular sugar cookie recipe posted below. "Ultimate Sugar Cookie" recipe
Split dough in half Refrigerate half the dough and mix 1/2 cup cocoa powder into remaining half.
Refrigerate after completely mixed.
Chocolate Ganache
1/2 cup whipping cream......warm it on the stove until it just starts to bubble. Add 4 oz bittersweet chocolate (baker's) and whisk until smooth. Remove from heat and let cool.
Fill cookies and sandwich them together. Yummy.
I used two different sizes of snowflakes and made bite size ones with the center cutouts. Just make sure you use a solid cookie on the bottom...LOL. You can use any kind of shape you like, but I'm fond of the snowflake